About Us
We're baaaaaack!!!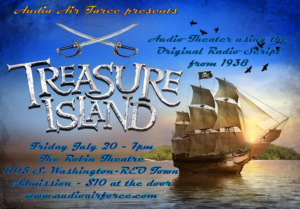 The classic story "Treasure Island" will be our next show on Friday, July 20 at The Robin Theatre
Auditions – Wed & Thurs  July 11 and 12 /  location: 935 N. Washington, Lansing  6:30-8:30pm
Rehearsals –  July 16, 17, 18 and 19. Location: The Downeaster Theatre, 1120 N. Pennsylvania which is in Old Town Lansing. Times will be 6:30 to 9pm
The Robin Theatre is located at 1105 S. Washington in REO Town Lansing. Admission -$10 at door
Updates on the Audio Air Force "Facebook" page. More information … info (at) audioairforce.com
CAST:
The Good Guys
NARRATOR
JIM HAWKINS
MOTHER
DR. LIVESEY
SQUIRE
CAPTAIN SMOLLETT
BEN GUNN
SERGEANT
DOGGER
SERVANT
SEAMAN
ALAN
and NEIGHBOURS
The Pirates
BILLY BONES
BLACK DOG
BLIND PEW
DIRK
JOHNNY
LONG JOHN SILVER
TOM MORGAN
MERRY
DICK JOHNSON
HANDS
FLINT THE PARROT
and CREW
~ ~ ~ ~ ~ ~ ~ 
The Audio Air Force is a theatrical organization dedicated to the creation of original material for presentation on the Radio, Internet, CD or whatever audio venues are appropriate. Programs will be produced both in studio and live on stage at venues.
As an organization there is an emphasis on preserving the history of Radio Theatre as we work to create Audio Theatre's present. To this we will also include recreations or re-imagining of Classic Radio program
Also follow us on Facebook – just search "Audio Air Force"
Here are some of the productions we've done: